Research article – Open Access – Open Peer Review
Hugo Neffen, Felipe Moraes, Karynna Viana, Valentina Di Boscio, Gur Levy, Claudia Vieira, Gabriela Abreu and Claudia Soares
Background
In Latin America, there is scarce information about severe asthma (SA) according to the ERS/ATS 2014 criteria. This study aimed to compare the demographic, socio, clinical characteristics, treatment, and use of healthcare resources between SA and non-severe asthma (NSA) patients in Argentina, Colombia, Chile and Mexico.
Methods
A cross-sectional study was conducted including 594 asthma patients from outpatient specialized sites. A descriptive analysis was performed comparing SA patients and NSA. Chi-square and Mann Whitney tests were used to assess associations between asthma severity and outcome variables.
Results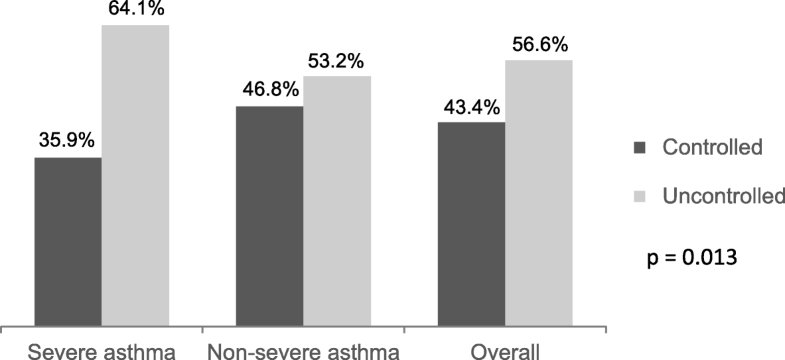 Using ERS/ATS 2014 criteria, 31.0% of the patients were identified as SA. SA patients were older at diagnosis (mean age 31.64 years vs 24.71 years, p < 0.001) and had higher proportion of uncontrolled asthma than the NSA patients (64.1% vs 53.2%, p < 0.001). SA patients reported a significantly higher proportion of both hospital admission and emergency room (ER) visits due to asthma in the last year, compared with NSA patients, 8.7% vs. 3.7% (p = 0.011) and 37.0% vs. 21.7% (p < 0.001), respectively.
Conclusions
SA patients were older, had greater proportions in some comorbidities and experienced increased healthcare utilization. Also, our results showed that even in patients using the last steps of treatment (GINA step 4 or 5), there was still a higher proportion of uncontrolled disease.