This CE-accredited video library features leading asthma experts across disciplines of allergy/immunology, pulmonology, and pharmacy to provide interprofessional teams with a comprehensive outlook on the assessment, treatment, and management of adults with severe asthma. Each of the unique videos offers an in-depth discussion of various facets of asthma care–including the core principles of asthma physiology, newest research updates, handling of biologic therapies, and shared decision-making–and their implications on personalized patient-centered care.
Please note that to claim CME/CE credit, participants must view all four modules in their entirety.
Personalized Approaches in Asthma Management: From Clinical Evidence to Patient Insights
In this video, patient testimonials jump-start a discussion between asthma experts, Drs. Nicola Hanania and Bradley Chipps, on how asthma heterogeneity, clinical parameters, and patient-reported experiences drive personalized treatment choices.
Translating Research to Action: Key Updates from Recent Asthma Conferences
This video features Drs. Thomas Casale and Monica Kraft as they relate the most exciting updates from recent asthma conferences—including hot-off-the-press abstracts from the American Thoracic Society (ATS) 2019 Conference—and share how you can apply new research findings to your treatment decisions and in daily practice.
Biologic Therapies 101: Practical Considerations for Proper Use in Asthma Care
In this video, expert pharmacist Dr. Dennis Williams covers key information on the proper use and handling of biologic therapies for optimal asthma care, including how to ensure patient adherence to targeted therapies.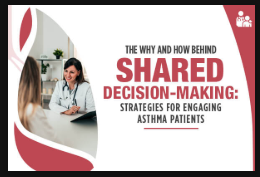 The Why and How behind Shared Decision-Making: Strategies for Engaging Asthma Patients
Drs. Nicola Hanania, Bradley Chipps, and Dennis Williams discuss proven strategies and tools for engaging patients in shared decision-making in this video.
Downloads
Personalized Approaches in Asthma Management: From Clinical Evidence to Patient Insights
Translating Research to Action: Key Updates from Recent Asthma Conferences
Biologic Therapies 101: Practical Considerations for Proper Use in Asthma Care
The Why and How behind Shared Decision-Making: Strategies for Engaging Asthma Patients
Source: