Research – Open Access
Eulalia Jimenez, Carol Astbury, Muna Albayaty, Ulrika Wählby-Hamrén, Beatriz Seoane, Cristina Villarroel, Helena Pujol, Maria Jesus Bermejo, Ajay Aggarwal & Ioannis Psallidas 
Respiratory Research volume 21, Article number: 211 (2020) 
Abstract
Background
Navafenterol (AZD8871) is an inhaled long-acting dual-pharmacology muscarinic antagonist/β2-adrenoceptor agonist (MABA) in development for the treatment of obstructive airways diseases. The safety, tolerability, pharmacodynamics, and pharmacokinetics of navafenterol were investigated in patients with mild asthma.
Methods
This was a randomised, single-blind, placebo-controlled, single-ascending-dose study. Patients were randomly assigned to one of two cohorts which evaluated escalating doses of navafenterol (50–2100 μg) in an alternating manner over three treatment periods. The primary pharmacodynamic endpoint was the change from pre-dose baseline in trough forced expiratory volume in 1 s (FEV1) for each treatment period.
Results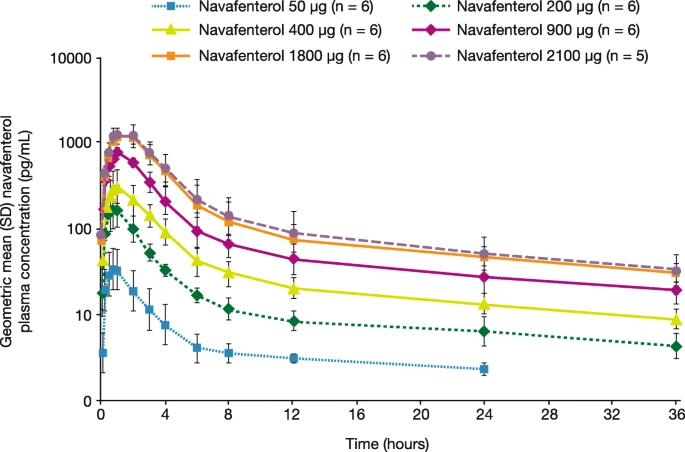 Sixteen patients were randomised; 15 completed treatment. Data from all 16 patients were analysed. The maximum tolerated dose was not identified, and all doses of navafenterol were well tolerated. The most frequently reported treatment-emergent adverse events (TEAEs) were headache (n = 10, 62.5%) and nasopharyngitis (n = 7, 43.8%). No TEAEs were serious, fatal, or led to discontinuation, and no dose dependency was identified. Navafenterol demonstrated a dose-ordered bronchodilatory response with a rapid onset of action (within 5 min post-dose). Doses ≥200 μg resulted in improvements in trough FEV1 (mean change from baseline range 0.186–0.463 L) with sustained bronchodilation for 24–36 h. Plasma concentrations increased in a dose-proportional manner, peaking ~ 1 h post-dose, with a derived terminal elimination half-life of 15.96–23.10 h.
Conclusions
In this study navafenterol was generally well tolerated with a rapid onset of action which was sustained over 36 h.
Trial registration
ClinicalTrials.gov; No.: NCT02573155