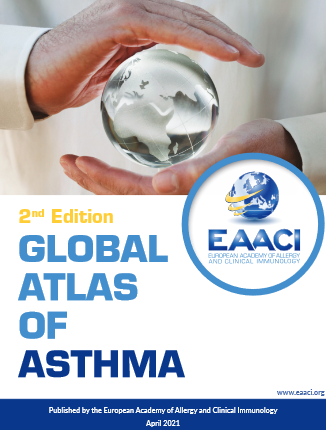 Asthma is a major public health problem affecting more than 350 million patients around the world. Its prevalence and impact are particularly on the rise in urbanized regions and expanding worldwide, associated with environmental and lifestyle changes. It is representing the most prevalent chronic childhood disease and one of the highest causes of health care costs.
We are launching the update (2nd Edition) of the Global Atlas of Asthma aiming to provide a platform for strategic planning for asthma in a multifaceted way, integrating research, education and global policies. EAACI had tremendous efforts to contribute a worldwide strategy to fight and manage allergic diseases and asthma. All stakeholders including specialists, primary care physicians, nurses, dieticians, psychologists, pharmacists, patient and civil society organizations, educators, industry, and policy makers are being continuously involved. A multidisciplinary and scientific approach is being taken with the involvement of "One Health" concept. Modern global guidelines are being developed and implemented for the management of asthma and comorbidities. The "Global Atlas of Asthma" has been written by an international group of 216 opinion leaders in asthma and includes 109 chapters, 202 illustrations and 93 tables.
We encourage you to read and share the publication, and hope you will enjoy this new important EAACI resource.
Marek Jutel, EAACI President
Ioana Agache and Cezmi Akdis, Editors
Read the Global Atlas here