Research – Open Access
Kang-ni Feng, Ping Meng, Xiao-ling Zou, Min Zhang, Hai-ke Li, Hai-ling Yang, Hong-tao Li & Tian-tuo Zhang 
Respiratory Research volume 23, Article number: 244 (2022) 
Abstract
Background
Epithelial–mesenchymal transition (EMT) is one of the mechanisms of airway remodeling in chronic asthma. Interleukin (IL)-24 has been implicated in the promotion of tissue fibrosis, and increased IL-24 levels have been observed in the nasal secretions and sputum of asthmatic patients. However, the role of IL-24 in asthmatic airway remodeling, especially in EMT, remains largely unknown. We aimed to explore the effect and mechanism of IL-24 on EMT and to verify whether IL-37 could alleviate IL-24-induced EMT in chronic asthma.
Methods
BEAS-2B cells were exposed to IL-24, and cell migration was assessed by wound healing and Transwell assays. The expression of EMT-related biomarkers (E-cadherin, vimentin, and α-SMA) was evaluated after the cells were stimulated with IL-24 with or without IL-37. A murine asthma model was established by intranasal administration of house dust mite (HDM) extracts for 5 weeks, and the effects of IL-24 and IL-37 on EMT and airway remodeling were investigated by intranasal administration of si-IL-24 and rhIL-37.
Results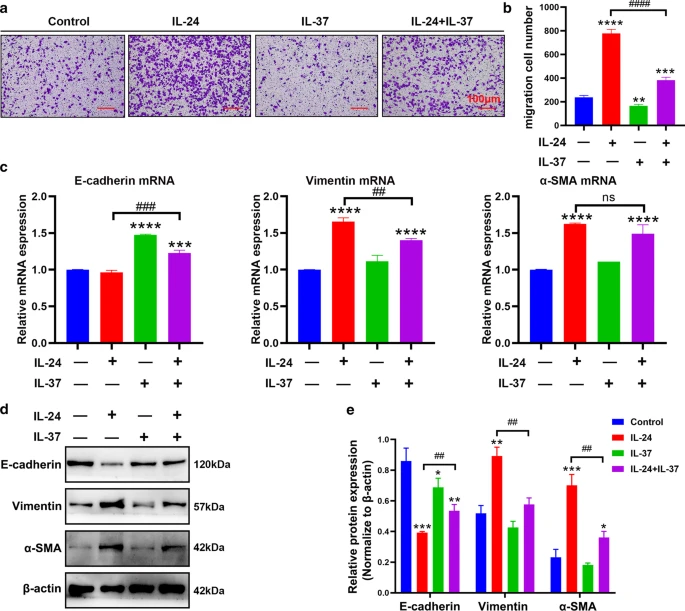 We observed that IL-24 significantly enhanced the migration of BEAS-2B cells in vitro. IL-24 promoted the expression of the EMT biomarkers vimentin and α-SMA via the STAT3 and ERK1/2 pathways. In addition, we found that IL-37 partially reversed IL-24-induced EMT in BEAS-2B cells by blocking the ERK1/2 and STAT3 pathways. Similarly, the in vivo results showed that IL-24 was overexpressed in the airway epithelium of an HDM-induced chronic asthma model, and IL-24 silencing or IL-37 treatment could reverse EMT biomarker expression.
Conclusions
Overall, these findings indicated that IL-37 mitigated HDM-induced airway remodeling by inhibiting IL-24-mediated EMT via the ERK1/2 and STAT3 pathways, thereby providing experimental evidence for IL-24 as a novel therapeutic target and IL-37 as a promising agent for treating severe asthma.