Colby Stong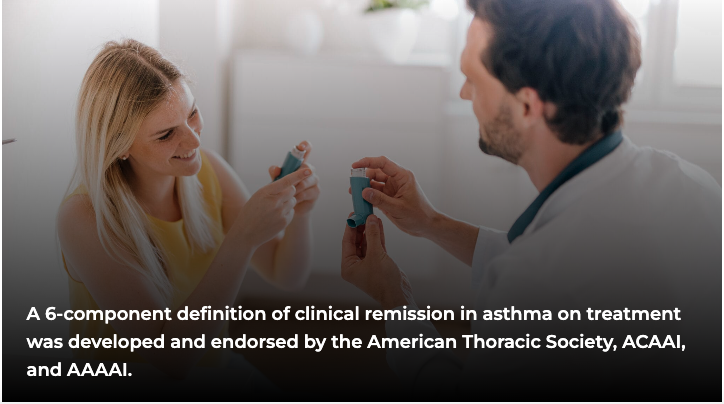 Remission is now a goal of asthma treatment, thanks to the development of a range of effective asthma control treatments. What, exactly, is clinical remission in patients on treatment for asthma? To define this emerging asthma treatment target, a consensus definition of clinical remission in asthma on treatment has been endorsed by the American College of Allergy, Asthma, and Immunology (ACAAI), American Academy of Allergy, Asthma, and Immunology (AAAAI), American Thoracic Society (ATS), and the European Forum for Research and Education in Allergy and Airway Diseases.
Published in the Annals of Allergy, Asthma & Immunology, the consensus definition consists of 6 criteria adopted by a joint ACAAI/AAAAI/ATS workgroup of 6 allergists, 3 pulmonologists, and 2 pediatricians.
Notably, this definition is expected to evolve based on continuing research. "[T]he definition is a reasonable starting point for research that will either validate or prompt revisions of the definition," stated authors of the published definition,
The Need for a Consensus Definition
Before reaching consensus on criteria for clinical remission in asthma on treatment, the workgroup conducted a literature review of evidence on asthma remission and previously proposed definitions.1 This review showed that there was not a standard acceptable definition of clinical remission in asthma that is under treatment. The review also showed that minimal research existed supporting previously proposed definitions.
"In practice, we note that for some people, asthma appears to resolve or remit over time," the workgroup noted. "However, the workgroup recognizes that we do not have a mutually agreeable definition of either asthma remission or clinical remission on treatment."
Current guidelines for managing patients with asthma emphasize disease control. A "super-responder" state in asthma also has been proposed and includes criteria such as exacerbation elimination, a large improvement in asthma control (≥2 times the minimal clinically important difference), and cessation of maintenance of oral steroids (or weaning to adrenal insufficiency); additional criteria include 75% exacerbation reduction, having well-controlled asthma, and 500 mL or greater improvement in forced expiratory volume in 1 second (FEV1).2 Other proposed definitions for remission in asthma also have been published.
Asthma Remission on Treatment: 6 Key Components
According to the ACAAI/AAAAI/ATS workgroup, achieving a state of remission in asthma on treatment should involve a high bar, as remission has generally been viewed as total control of asthma without any medication use. Thus, the workgroup proposed 6 components for asthma clinical remission on treatment.
Component 1 is having no exacerbations requiring a physician visit, emergency care, hospitalization, and/or use of a systemic steroid for asthma (oral, injectable). Workgroup members unanimously agreed this was a mandatory requirement, and that no systemic corticosteroid use for asthma or significant asthma flares requiring physician intervention should be allowed.
Component 2 requires no missed work or school during a 12-month period owing to asthma-related symptoms, with workgroup members unanimously agreeing that no interference with activities also was mandatory.
Component 3 involves stable and optimized pulmonary function results for all occasions measured during a 12-month period, with a minimum of 2 annual measurements. Workgroup members agreed that asthma should be stable, and that optimized pulmonary function should be attained on at least 2 occasions during the year and at all points measured in this time period. The workgroup did not require any absolute numbers to comply, because some patients with asthma may have pulmonary function that is less than normal as their baseline owing to previous remodeling.
Component 4 allows the continued use of a controller (inhaled corticosteroids [ICS], ICS/ long-acting bronchodilator [LABA], leukotriene receptor antagonist) only at a dose of ICS that is low-medium (or less) according to the most recent Global Initiative for Asthma (GINA) guidelines. The workgroup believes that the bar should be higher than just having good/great asthma control to be considered as being in remission. Although limited studies have shown ICS tapering on treatment with monoclonal antibodies, workgroup members thought that this should be a goal to distinguish asthma clinical remission from good asthma control.
Component 5 requires an Asthma Control Test (ACT) score of more than 20, a Baseline Asthma Impairment and Risk Questionnaire (AirQ) score of less than 2, and an Asthma Control Questionnaire (ACQ) score of less than 0.75 for all time points measured within the previous 12 months, with at least 2 measurements during the year. A majority of workgroup members believed that all objective measures of asthma control should be normal on all occasions and checked and measured at least twice annually.
Component 6 requires that symptoms needing 1-time reliever therapy (ie, short-acting beta agonist [SABA], ICS-SABA, ICS-LABA) occurs no more than once a month. The workgroup debated how much reliever would be acceptable, and a majority of members thought that the most rigid standard of the GINA guidelines of less than twice a month involved too much albuterol use. "If one is truly placed into a category of remission while taking controllers, including biologic therapy, then we felt a standard of very rigorous control was necessary," the workgroup stated. "There was a lack of consensus based on the lack of data/research, but the group recommended no more than 2 puffs per month on average as a starting point, with specific research needed in this topic before further recommendations can be made." The members agreed that the need for reliever medication should be considerably lower than what is regarded as adequate control in current guidelines.
Definition Designed to Drive Research
"While we understand these standards are high, the workgroup sees this document and included definition as a template to allow for further clinical research," the workgroup stated. "Physicians treating those with asthma can use this definition to generate needed data. Certainly, we expect the definition may evolve with time, but we need to begin with an agreed upon definition understanding that it will likely change."
Suggested future areas of research may include determining health care use decreases and quality of life gains for the components, as well as identifying predictors of on-treatment remission and asking patients how they assess and weigh each of the components, the workgroup noted.
Workgroup members were selected by the respective societies based on the members' expertise in asthma care in either a research or clinical environment or both. The panel used a modified Delphi approach in agreeing on the 6 criteria, with no more than 1 dissenter occurring in the 11-member group.
Disclosure: Some of the study authors declared affiliations with biotech, pharmaceutical, and/or device companies. Please see the original reference for a full list of authors' disclosures.
References:
Blaiss M, Oppenheimer J, Corbett M, et al. Consensus of an American College of Allergy, Asthma, and Immunology, American Academy of Allergy, Asthma, and Immunology, and American Thoracic Society workgroup on definition of clinical remission in asthma on treatment. Ann Allergy Asthma Immunol. Published online September 7, 2023. doi:10.1016/j.anai.2023.08.609
Upham JW, Le Lievre C, Jackson DJ, Masoli M, Wechsler ME, Price DB; Delphi panel. Defining a severe asthma super-responder: findings from a Delphi process. J Allergy Clin Immunol Pract. 2021;9(11):3997-4004. doi:10.1016/j.jaip.2021.06.041
Source: https://www.pulmonologyadvisor.com/