Abstract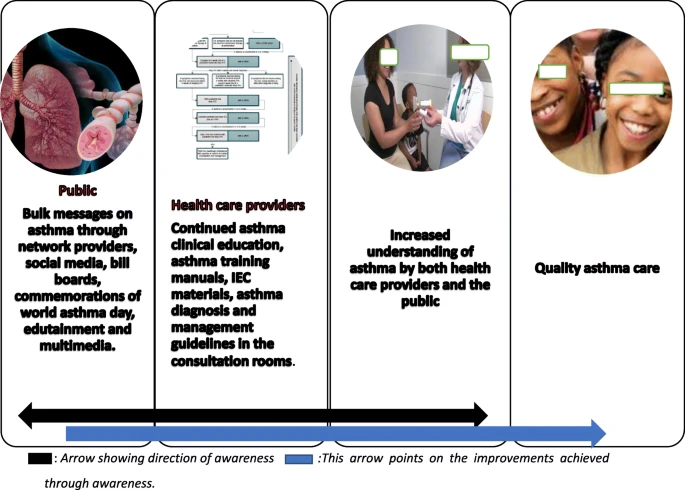 Background
Asthma accounts for significant global morbidity and health-care costs. It is still poorly understood among health professionals and the general population. Consequently, there are significant morbidity and mortality rates throughout the globe. The aim of this study was to develop a framework to increase asthma awareness at Chitungwiza Hospital, Zimbabwe.
Methods
A modified Delphi model was used to collect data to develop a framework for increasing asthma awareness. At baseline (round 1) in-depth interviews with 44 medical doctors were carried out to understand the level of asthma awareness. Round 2 data collection was in the form of a workshop involving a total of 15 doctors, 30 nurses, four public relations officers, and two health education and promotion officers. The same participants who were engaged in round 2 were also involved in the third round where consensus was achieved by the health professionals.
Results
Our study showed that awareness to asthma among health care providers was affected by mimicry of symptoms and lack of continuous education on asthma. Our study showed lack of Information Education and Communication (IEC) material and lack of use of bulk messages affected asthma awareness. Our study showed that clinical meetings on asthma, having asthma training manuals, (IEC) materials and guidelines for asthma diagnosis and management could improve health care providers' awareness of asthma. Bulk messages on asthma through network providers, social media and bill boards, commemorating world asthma day, edutainment, asthma ambassadors and multimedia were suggested as means of improving awareness of asthma among the public.
Conclusion
We concluded that awareness of asthma can be improved using a framework. Such a framework ultimately improves the quality of asthma care.