Research – Open Access
Alexandre Haddad, Mellissa Gaudet, Maria Plesa, Zoulfia Allakhverdi, Andrea K. Mogas, Severine Audusseau, Carolyn J. Baglole, David H. Eidelman, Ronald Olivenstein, Mara S. Ludwig & Qutayba Hamid
Respiratory Research volume 20, Article number: 234 (2019)
Abstract
Background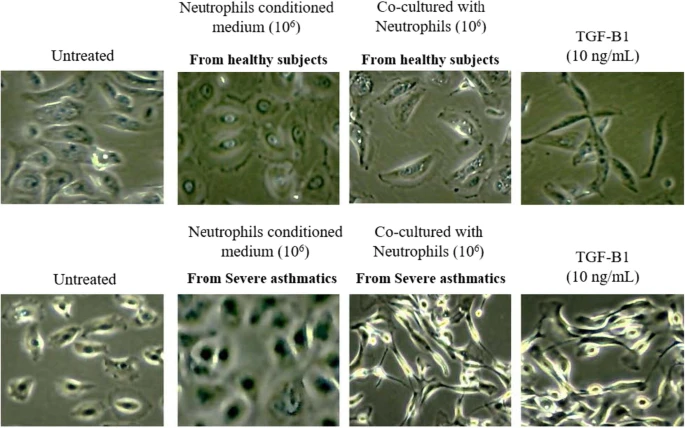 Asthma is a heterogeneous disease characterized by chronic inflammation and airway remodeling. An increase in the severity of airway remodeling is associated with a more severe form of asthma. There is increasing interest in the epithelial to mesenchymal transition process and mechanisms involved in the differentiation and repair of the airway epithelium, especially as they apply to severe asthma. Growing evidence suggests that Epithelial-Mesenchymal transition (EMT) could contribute to airway remodeling and fibrosis in asthma. Severe asthmatic patients with remodeled airways have a neutrophil driven inflammation. Neutrophils are an important source of TGF-β1, which plays a role in recruitment and activation of inflammatory cells, extracellular matrix (ECM) production and fibrosis development, and is a potent inducer of EMT.
Objective
As there is little data examining the contribution of neutrophils and/or their mediators to the induction of EMT in airway epithelial cells, the objective of this study was to better understand the potential role of neutrophils in severe asthma in regards to EMT.
Methods
We used an in vitro system to investigate the neutrophil-epithelial cell interaction. We obtained peripheral blood neutrophils from severe asthmatic patients and control subjects and examined for their ability to induce EMT in primary airway epithelial cells.
Results
Our data indicate that neutrophils from severe asthmatic patients induce changes in morphology and EMT marker expression in bronchial epithelial cells consistent with the EMT process when co-cultured. TGF-β1 levels in the culture medium of severe asthmatic patients were increased compared to that from co-cultures of non-asthmatic neutrophils and epithelial cells.
Conclusions and clinical relevance
As an inducer of EMT and an important source of TGF-β1, neutrophils may play a significant role in the development of airway remodeling and fibrosis in severe asthmatic airways.