Letter to the Editor – Open Access
Respiratory Research volume 20, Article number: 289 (2019)
Abstract
Background
Increased numbers of blood and sputum eosinophils are associated with higher exacerbation frequency and increased asthma severity. In clinical trials, targeting Interleukin-5 has been shown to be a useful therapeutic strategy for patients with severe eosinophilic asthma.
Methods
Twenty-six patients have been commenced on Reslizumab in our institution since early 2017. Safety and clinical efficacy parameters were recorded at regular intervals.
Results
Mean ACQ-6 score at the start of treatment was 3.5. The average number of exacerbations in the year preceding treatment was 8.3 per person. 30% of patients had been admitted to hospital at least once over the 12 months preceding therapy. 54% of our patients were on long term oral steroid.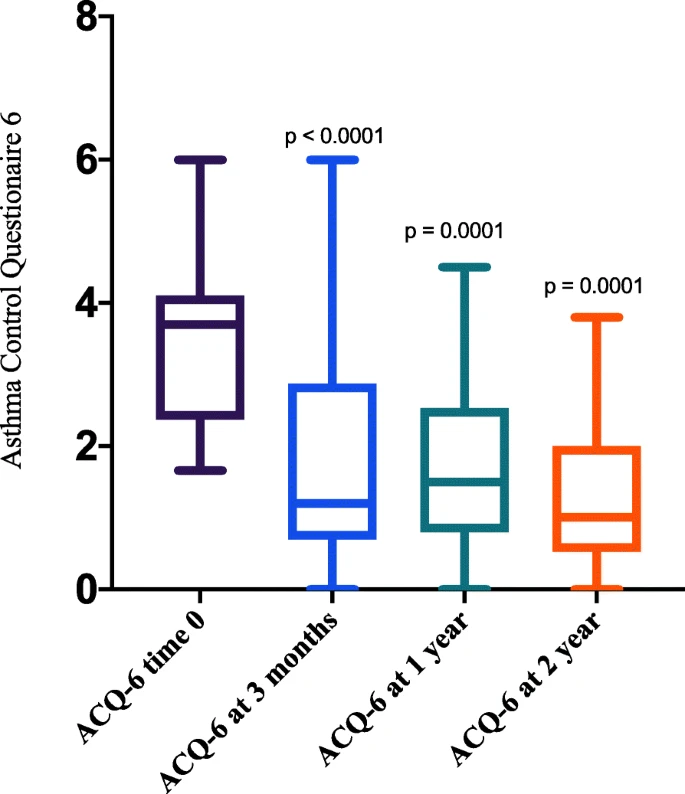 Our data showed sustained improvement of Asthma control (Mean improvement in ACQ-6 was 1.7 at 1 year, and 2.0 at 2 years, P = 0.0001). Of the patients who were on long term systemic steroids, 35.7% discontinued steroids completely, with a mean reduction of prednisolone dose of 5.2 mg at 1 year. There was a 79% reduction in the annual exacerbation frequency at 1 year, and 88% at 2 years (P = < 0.0001). Modest, albeit statistically significant increases in creatine kinase which seemed to plateau by 1 year were noted.
Conclusions
Overall, Reslizumab was well tolerated with discontinuation of treatment due to side effects recorded in only one patient. Our data confirm the utility of anti-IL5 therapy in a carefully selected phenotype of severe asthma with evidence of eosinophilic airway inflammation.