P. Jane McDowell PhD MBBS, J. Busby PHD & Liam G. Heaney MD
Abstract
Purpose
Advances in the management of severe, eosinophilic asthma have improved, but asthma exacerbations continue to occur. This review aims to look at the evidence we have about why exacerbations may occur; their phenotype and why oral corticosteroids may not always be the best treatment option for all exacerbation of symptoms in individuals with severe asthma.
Recent findings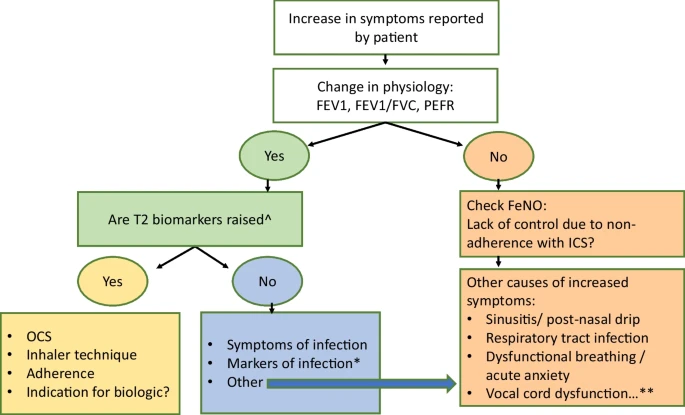 Studies dating back to the 1990s showed that asthma exacerbations across the spectrum of asthma severity were of different inflammatory endotypes. In addition, there is a wealth of evidence suggesting that eosinophilic inflammation is very responsive to corticosteroid therapy, but that non-eosinophilic inflammation is less so. Two recent UK-based studies have undertaken systematic phenotyping of exacerbations in severe asthma and have shown that there are a significant minority of exacerbation events with an increase in asthma symptoms, fall in lung function, but without evidence of raised T2 biomarkers.
Summary
The evidence to date would suggest that T2 biomarker low asthma exacerbations do not benefit from the administration of oral corticosteroids; in fact, the effect of the oral corticosteroids is harmful. However, there is a paucity of data to answer this question directly. Further research is needed to assess the evolution of non-T2 exacerbations not treated with OCS in a randomised, placebo-controlled, manner.